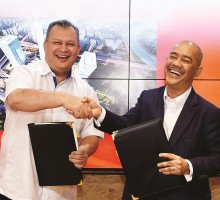 PETALING JAYA (Oct 29): Perbadanan PR1MA Malaysia (PR1MA) projects in the Klang Valley (KL and Selangor) have received the highest number of middle-income – those earning between RM2,500 and RM10,000 per month – applicants, said PR1MA CEO Datuk Abdul Mutalib Alias during a press conference yesterday.
The affordable homes in areas such as Alam Damai, Bukit Bintang, Brickfields and Bukit Jalil are seeing an oversubscription rate of between five and 40 times against the available units.
For instance, the highest number of applicants goes to the PR1MA project in Bukit Jalil with 13,327 applicants for 320 units, followed by the project at Bukit Bintang with 11,575 applicants for 543 units.
According to Mutalib, the high application rate is expected as a huge portion of the country's middle-income earners resides in urban areas, particularly within the Klang Valley.
"With PR1MA projects mainly located in prime and strategic areas, the potential upswing on the value of these properties in the future may also contribute to the high demand for our properties in the area."
According to him, individuals who fall into the middle-income category who had yet to own a home amount to 450,000 in the Klang Valley.
Out of the total 150 projects nationwide, 27 projects in the Klang Valley have been approved by PR1MA's board.
From a total of 198,489 approved units nationwide, 4,636 of 6,172 units in Kuala Lumpur are under construction, whereas in Selangor, 5,081 out of 19,591 units are under construction.
Mutalib hopes to be able to meet the first three years' target of getting 240,000 units approved by year-end.
He notes that 800 units are completed to date and PR1MA is aiming to complete 1,000 units by year-end, and complete 10,000 units next year.
"We started construction in 2013 and we now have about 65,000 under construction, which we will see ready in two to three years," he said.
However, he said PR1MA is hoping to raise this figure to 75,000 by the end of this year.
Noting the challenges posed by high land costs, Mutalib encouraged collaborations with property developers, whereby PR1MA assumes the role of end-buyers and distributes units to the public.
The only imposition is for the developers to follow PR1MA homes specification and guidelines, as well as to agree on the target pricing, he said.
"Working with developers is a win-win situation. They are the industry players who know their local content and supply. They don't have to worry about financing or end-buyers as we have an inventory of registered demand on hand and they only focus on construction, and by reducing costs such as on marketing — that's when savings come in place."
He added that working with developers ensures that the incoming supply of PR1MA homes does not flood the market, which would pose a problem.
Meanwhile Mutalib urged eligible applicants to register and apply for PR1MA homes through its website as all the units will be balloted.
As part of its nationwide roadshow to provide an interactive platform to share information on its products and services to the public, PR1MA is holding its Expo Rumah PR1MA in Melaka this weekend from Oct 30 to Nov 1, followed by Kuala Lumpur from Nov 13 to 15 and Johor Bahru from Dec 4 to 6.